The newest I LUV Winter Park podcast is now online, this one all about the Winter Park Paint Out! Including the largest group so far, you will hear from two of the event's organizers, as well as four of this year's Artists. Hear it at:
http://iluvwinterpark.libsyn.com/winter-park-paint-out
The 2019 Winter Park Paint Out is now underway. This is truly one of the BEST Art events of the year and, honestly, in lots of ways it is No. 1! While most other events last an evening or maybe a weekend, the Winter Park Paint Out takes place over a full week. This extended schedule allows for lots other schedules do not. And some of those are among my Top 10 Reasons I LUV Winter Park Paint Out!
What are those reasons? Here goes . . . .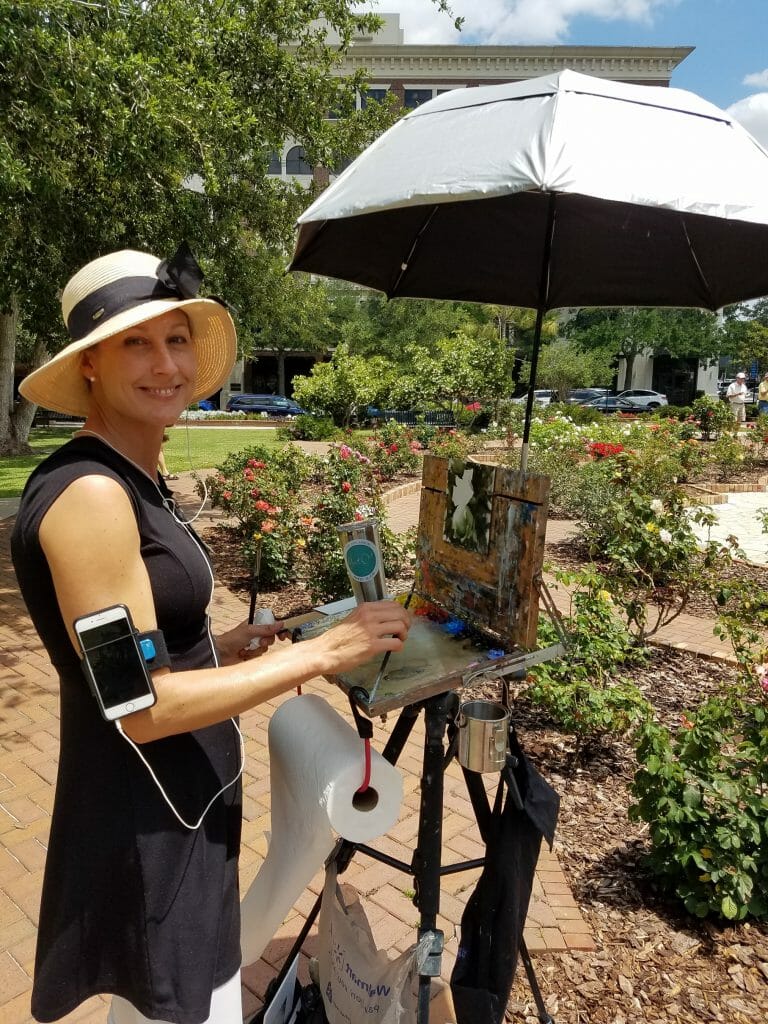 No. 10 – Artist Palettes & Other Individual Stylings. The Art created by Artists is unique, their very own. But the pieces they create are often not the only thing unique about how they work. I have come to enjoy checking out their palettes, how they mix or do not mix paints, how neatly (or chaotically) they keep them, as well as how they like to work. Some prefer to sit, others stand. Some like quiet, while others will have earbuds, listening to music. Some prefer natural settings, others like a bit of architecture. The collectors of an individual Artist often follow a specific Artist, will be more interested in their works, for just those reasons. How an Artist works and what the environments which draw them in, attract them, are often as unique as the works they create.
No. 9 – Accessibility. Because the Winter Park Paint Out occurs over a full week with 25 participating Artists, there are lots and lots of individual opportunities to catch Artists at work creating new works all around the city. Each day you will find at least a few painting around the gardens at The Polasek Museum. But there is also a board there indicating the other locations around the city where Artists are presently painting. If you are interested in catching one at work, the best thing to do is simply to be attentive, especially around Park Avenue. You may get really lucky and find an Artist early in the creation of a new work. When you do, check it out then, go have lunch or dinner, do some work, and come back to see how it has developed. Do that a few times and I promise you, it becomes a bit addictive! You'll want to do it more. And every Artist works a bit differently.
8 – Viewer / Local In Put. Seven days is a lot of time to create Art and these guys & gals can be quite prolific! Many of these Artists are ones who have participated in the event before and while they may have favorite areas to paint, specific ideas on what they would like to paint this year, you will also find they are very open to new possibilities. In fact, there is no Art event which occurs in Winter Park with as much opportunity to make requests, offer your own ideas. You will find some of the Artists are Local, but many others are not. While they may have participated in the event before, exposing them to a new spot in which they may want to paint is always appreciated. Just stop by the museum and make the suggestion to a member of the staff or, if you meet an Artist in person, suggest it to them. If it's not in a central area, you may well need to write it down or draw a map. Get specific.
No. 7 – The Daily Anticipation Factor. Covering so many days offers so many new opportunities, possibilities for something new and different. Each day is full of new daily events at The Polasek Museum, going to see many new works created. Stopping by to see the latest works hung for exhibit at The Polasek is always a good idea. But, too, you can enjoy lots of the activity via social media, with posts to the Instagram for @winterparkpaintout, @polasekmuseum, as well as @iluvwinterpark & @iluvparkavenue. Got a favorite Artist? Look for his or her own Instagram or Facebook page and follow along! Each day, so many new ways to enjoy the event, get involved with it. Be sure to refer to the calendar at WinterParkPaintOut.com, as well.
No. 6 – The Polasek Museum Gardens. Truly, this is a spectacular spot on Lake Osceola. The views to the lake are gorgeous, but there is also the gardens themselves. Dotted all about with statuary by Albin Polasek, this time of year the trumpet bushes are always in perfect form, much else flowering all around. This year there is a food truck — Cafe Moderne — out front serving breakfast, so you could really make a morning of it, if you liked, taking in one of the demostrations from a participating Artist. The gardens are beautiful and the weather thus far — fingers crossed — SPECTACULAR. LUVly weather to create Art & enjoy it!
No. 5 – Getting To Know The Artists. So many of the participating Artists are from Florida, if not Locals. And the more opportunity you have to watch them work, the more you will end up interacting with them, getting to know a bit about them, their individual stories. These stories often help you understand more about what it is they most LUV & enjoy painting, and, possibly, where they are likely to pop up next around town. Learning more about the individual who created a work of Art often leads to a greater appreciation of their work. As someone who now spends a good bit of time around the event each year, getting to know so many of the Artists ever more each year, I then end up watching their social media as they participate in other events around Florida and across the nation. You will find they are not just great Artists, but can also be a lot of FUN.
No. 4 – Getting To Know Individual Styles. It is rather humorous, actually, the first time you see a work in the gallery, resting against the wall and waiting to be hung, a signature not clearly visible, and also not necessary. The more you watch so many of these Artists at work, see more pieces they have created, the more likely it is you will be able to identify other works, signed or not. Getting to know and recognize a specific style, I believe, contributes to enjoyment of the event. The more you hang around, attend events, watch as new works are begun, developed and finished, the more certain styles will appeal to you and you just may become a new collector of a specific Artist!
No. 3 – The Sunset Paint In. So many of my favorite photographs over the years have been taken at this one event, The Sunset Paint In. One year, when it took place at Hillstone on Lake Killarney, I got a shot of Local Being by the water watching Art be created . . . . hard to beat! But since moving to the Winter Park Racquet Club, the number of shots I LUV each evening has increased dramatically because the location on the lake is sooooooo PERFECT for this event. All participating Artists will be scattered alongside the edge of Lake Maitland painting, initially in the bright sun, then in dimming light and finally darkness. It's not watching one Artist create a new work. This is watching creation of new Art en masse! And it is not uncommon for pieces to sell right there on the easel, before the last stroke has been made. This year's event is Wednesday, 6 – 9 at the Winter Park Racquet Club. Wine will be available for sale and food trucks will be on site, as well. This event is open to the public and it is FUN! If you've attended previously, you know. And if you have not attended, you'll want to!
No. 2 The Fab Garden Party. It is the perfect conclusion to the week, an opportunity to check out all remaining Art from the week, now hanging on the walls of the Polasek Museum. The wine is flowing out back and I believe there are six caterers participating this year, as well. This event will also include the unveiling of the newly created Art piece selected for the poster for next year's event. It is fun and viewing all the Art from the week, hung together by Artist, a truly wonderful sight!
No.1 More Than Any Other Art Event In The Year, This One Is All About Winter Park! We are fortunate in Winter Park to have so many wonderful Art events during the year. The Winter Park Sidewalk Art Festival is something I look forward to each year. It always presents such an amazing assortment of talented Artists, some of the best from across the country. It is considered to be one of the top 10 Art festivals in the entire country and deserves that accolade. In the fall, the Winter Park Autumn Art Festival is ALL FLORIDA ARTISTS. I'm not sure how many really know that. Being all Florida means we are likely to see more scenes portrayed which relate to our own environment, feel suited to our individual homes' decor. Florida is a unique state and having an event which is dedicated to Florida Artists and Florida Artists only is a real treat. And this unique take, I believe, makes it the perfect complement to the spring show. Then you have Winter Park Paint Out. It is entirely different than the other two because it takes place over an entire week. But it is unique still because it is entirely about this community, the works created each year a LUVly, amazing reflection of it. It is a LUVly, LUVly treat in oils, acrylics, pastels, charcoal and watercolors.
Hope to see you around this week, enjoying all the new Winter Park Art being created by these wonderful Artists!